70 Series Canopy & Tray Combo
This customer wanted a full custom tray to house a petrol screw compressor (small engine) with plenty of toolbox storage under tray for the essentials. Mounted on top of the tray is a lift-off custom canopy loaded with storage and drawers all sprayed in matte black paint – looks mint!
While the canopy was under construction the custom aluminium tray was being fabricated ready to house the compressor. The petrol screw compressor was installed under the tray hidden from view with filler pipe accessibility via the side/front of the utility. A second custom filler pipe was also installed for the main engines petrol tank. An additional fuel tank was also installed into the tray for spare supply of fuel.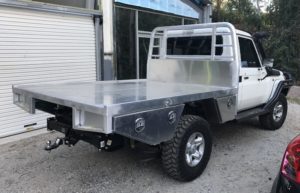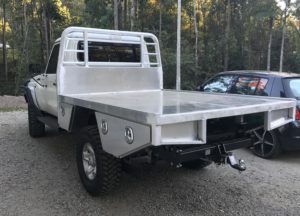 The canopy was fabricated from marine grade aluminium sheeting and box section. As the Landcruiser ute is mostly used as a work vehicle the customer wanted custom draw and storage room in each side of the canopy and a separate open space between the draws accessed via the rear door of the canopy. The drawers were constructed using stainless heavy duty sliders to with stand weight within the drawer and constant repetitive use.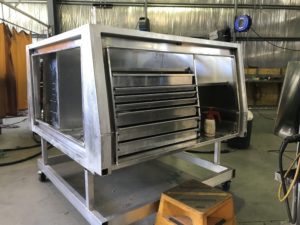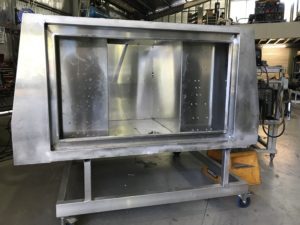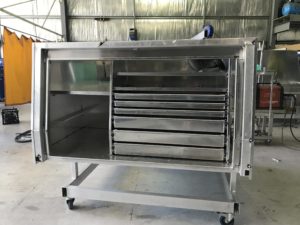 The tray looked great fitted on the Toyota ute. Two under tray toolboxes were mounted on each side of the tray, one small at the front and a large box at the rear, all complete with lockable whaletail stainless handles and rubber seals. The reverse camera was remounted and lighting for the registration plate and LED tail lights were installed. Several spot lights were also wired up and installed on the headboard for additional lighting for night time work along the side of the vehicle.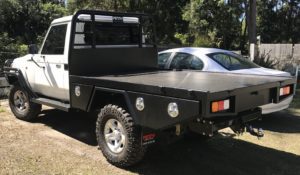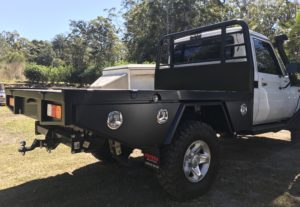 The canopy was then fitted to the vehicle and the finishing touches were completed. A spare wheel mount was added to the rear door of the canopy. Our usual stainless gas struts, lockable stainless whale tail handles, heavy duty clips and sliders and double door seals were also added to complete the canopy / toolbox setup. The canopy was built short to allow for a small storage area at the back of the tray for other machines, jerry cans and room for the spare wheel mounted on the door.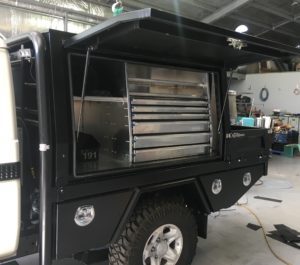 The customer wanted the ability to remove the canopy with ease so he opted for the lift-off design option. This provides the freedom to remove the canopy and leave in one place still allowing for use of the tray and vehicle. The adjustable legs are a great optional extra to choose.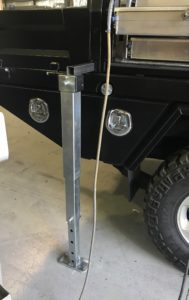 The finished product looks great. We particularly like the amount of storage and drawers the customer opted for so that one tool you need isn't back at the work shop.
…and the matte black paint looks great too!
If you'd like a quote on a custom aluminium canopy or tray please click here and submit a quote request.