Mazda BT50 Freestyle Cab Custom Canopy Build.
Our customer wanted a strong, reliable, good-looking canopy that enjoys long trips, walks on the beach…you get the idea!
We got cracking with the tools, framed her up and got sheeting.
Having completed all the sheet metal and fabrication work we then prepped for a custom paint job. The customer asked for a white finish colour matched to his factory vehicle paint code. We delivered the canopy to our professional painters and into the booth she went. Apparently it's like getting a spray-tan…according to the apprentice! Righto.
Back from paint she came glistening, looking amazing. Nothing like an orange spray-tan! While the canopy was away getting painted we prepped the vehicle with mounts and were ready to bolt straight on and commence fit out.
Out with the old..in with the new!
The fit out commenced. We bolted the canopy on to the vehicle chassis using our custom bolt on mounting setup. We avoid welding anything directly on to the chassis, which allows for the easy removal of the canopy should you wish to upgrade your vehicle.
Another benefit of owning a Penny Industries canopy is having double internal rubber door seals on your canopy doors. This significantly reduces the chance of water and dust entering the canopy.
The customer opted for our checker-plate options under his canopy so we installed the wheel guards and under tray toolboxes. Our toolboxes include the lockable whale-tail handles, rubber seals and were made from marine grade aluminium to match the quality of the rest of the build.
On the passenger side of the canopy the customer wanted two strong & lockable drawers installed with custom shelving fitted above. He also wanted room for a quality MSA fridge drop-slide to house and make easily accessible his travel fridge. We also had some basic electrics installed including a dual battery setup, a dc charger and inverter with a mounted anderson plug. The drivers side of the canopy was left as a large open space to provide plenty of storage for travel gear, camping equipment or larger tools. We finished off the top of the drawers, shelves, electrical panel and canopy floor with marine grade carpet.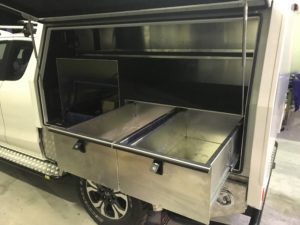 The customer was very happy with the end result. Here are a few key features.
Custom roof racks, fuel filler and modern LED lighting.
Plenty of storage with drawers, shelving and space. A super strong fridge drop-slide and electrical system.
A modern, strong, reliable canopy built just the way a customer wants!
Further pictures can be found in our Mazda Canopy Gallery.
For more information please Contact Us or complete a QUOTE request.