Iveco 'Monster Tray' Daily 4×4
We like these… The Iveco Daily 4×4.
The customer, who spends a lot of time out west, wanted a custom aluminium multi-purpose tray. He required a motorised tipper tray (stage 2 -'Tipper' coming soon) and the tray needed to fit his fibreglass canopy, his 'sleeping quarters' when travelling. So, we got to work.
The support rails, under tray base and the headboard were fabricated. The aluminium for the rails we used was 100×50 heavy wall box section with bolt track with the ability to relocate mounts in case of vehicle upgrade. The monster headboard was fabricated out of 100×50 box section – currently taking the top spot as the biggest headboard we've made, so far. The tray floor, base and headboard were then put together and the 2.6m long x 2m wide tray started to take shape.
As the customer wanted the ability to place his fibreglass canopy on the back part of the tray, a storage area was allowed for at the front of the tray between the canopy and headboard. Separate side panels were manufactured to allow for access to all areas whether the canopy was on the tray or not. The side panels can also be removed to allow for a flat open tray making it a very versatile product. Soon to have the option to tip also.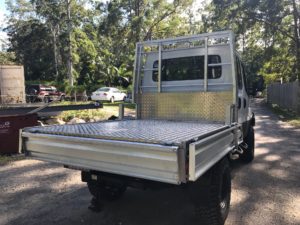 We then fitted the monster tray to the Iveco Daily 4×4.
Here is Stage 1 completed of the Iveco Daily 4×4 aluminium tipper tray.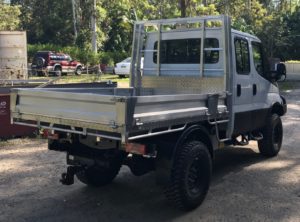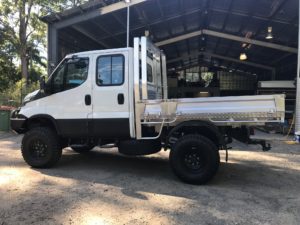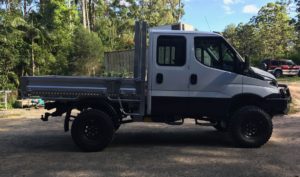 Once the Iveco returns for stage 2 of the build we'll fabricate and install the tipper motor, under tray battery and tool boxes and custom box covering the motor and electrical gear for the tipper. This truck is one awesome rig!
The next person to buy an Iveco Daily 4×4 and sign up for a custom canopy build, we'll chuck in

FREE floor carpet throughout the canopy, and FREE LED lights inside the canopy

 – Just because we want to see one with a canopy on it!